News
Netflix fans in hysterics as 'f***ed up' new show Floor Is Lava 'kills off' contestants in gruesome 'deaths'
NETFLIX fans are in hysterics at new game show Floor Is Lava, which "kills off" contestants with gruesome "deaths".
Viewers can't get enough of the programme after it premiered last week, with clever editing making it look as though unlucky contestants who fall into the fake lava never come back up.
Inspired by a popular childhood game, Floor Is Lava sees teams compete in an obstacle course – but if they fall into the challenges' surrounding bubbling, orange water then they are out.
With the water made to look like real-life lava, Netflix fans are obsessed with the way contestants scream and fully submerge into the unknown once they have fallen.
The official description reads: "Teams compete to navigate rooms flooded with lava by leaping from chairs, hanging from curtains and swinging from chandeliers. Yes, really."
In spite of the relatively simple format, the new show is hugely popular and secured the number one spot in Netflix's Top 10 list at the weekend.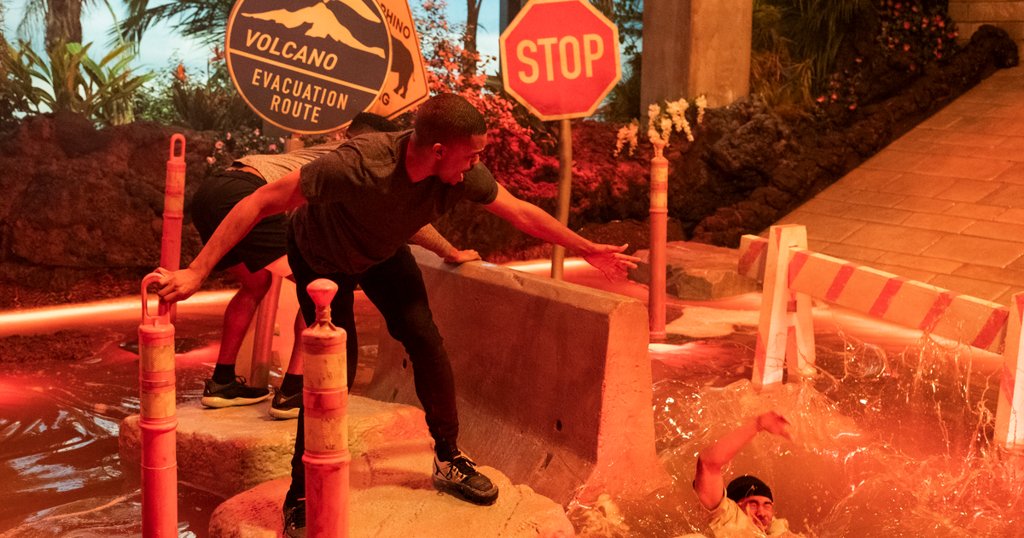 The game show premiered last week[/caption]
Most read in TV
'IT'S SAMEY'

Megan Barton-Hanson says exes were 'boring in bed' & sex needed spicing up
CANCER ORDEAL

Loose Women's Janet Street-Porter reveals she has skin cancer
garden goals

Scarlett Moffatt reveals her garden transformation with hot tub & disco ball
in memory

Liz Hurley's son Damian says it's a 'strange & confusing time' after dad's death
BLUE 2

Bono's daughter romps on the beach in BBC1's steamy drama The Luminaries
STRICTLY BUBBLE

Strictly bosses fear Bruno Tonioli will quit series as new rules are leaked
Taking to Twitter, one tickled fan wrote: "The Floor is Lava cracks me up lol. The way the people just disappear so perfectly under the water kills me".
Another tweeted: "The absolute greatest part of Floor Is Lava on Netflix is they edit it to look like people who fall in never come back out, and just die there."
A third joked: "So I guess the people who fall in on The Floor Is Lava just die? V dedicated for a Netflix show".
One more wrote: "Kinda f**ked up how many people die in the lava on the floor is lava. S**t was just a game back in the day".
What's on Netflix and Amazon Prime?
Looking for a new Netflix series to binge or the best movies to watch on Amazon Prime? We have you covered…
New on Netflix: The best series and films released every day
The best movies on Netflix to watch right now
The best series to watch on Netflix
The most terrifying horrors to watch on Netflix right now
The best documentaries to watch on Netflix right now
The best comedies to watch on Netflix right now
The best thrillers to watch on Netflix right now
The best kids' shows on Netflix to watch right now
The best movies to watch on Amazon Prime
The best series to watch on Amazon Prime